Reservations are made by the week (7 nights) from Saturday to Saturday during the middle and high seasons and from 2 nights in low seasons
Exceptional gîte
in the heart of the Bresse Bourguignonne !
Gîte rental Bresse Bourguignonne
The cottage
At the very heart of Burgundy, Saint Germain du Plain is a small village in Saône-et-Loire, located at the crossroad between Tournus (18km), Chalon sur Saône (17km) and Louhans (21km).
Its proximity with the wine route offers the opportunity to visit many vineyards from South Burgundy (Côte de Nuits, Nuits Saint Georges, Côte de Beaune, Côte Chalonnaise, Maconnais…)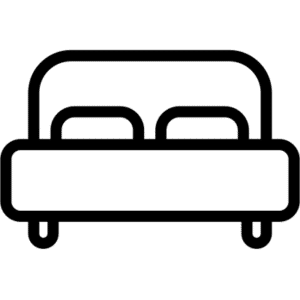 3 Rooms
6 Persons
Indoor pool
2 bathrooms
Included : wifi – tv – private parking spaces – 
2 two parking spaces in a garage
 and in a closed yard
Important : the cottage is non-smoking in indoor areas
Bedrooms
Blue bedroom: double bed (160 cm) with en suite bathroom, sink + shower
Yellow bedroom: double bed (160 cm)
Pink bedroom: twin beds (90 cm)
Bathrooms
2 Bathrooms, shower place and double sink
independent lavatories
The extra services :
Linen provided, sheets, towels
Hair dryer available
Wardrobe in each room
Baby equipment on request (changing table, high chair, bouncer, potty and cot)
Air conditioning
Living-Room & Kitchen
The cottage offers a small and cosy living-room area with a large sofa, armchair, side board and TV.
The kitchen area is fully equipped with a long table and two extensions allowing between six and ten people to sit and enjoy a meal!
Kitchen equipment :
Oven, Microwave & Gas hob,
Extractor
Fridge / freezer
Boiler
Toaster
Nespresso coffee machine (coffee portions not included)
+ Tablecloth, napkins, tea towels, kitchen ustensils are available as well.
Outdoor area
a small and green terrasse which includes:
Table & chairs
Parasol
Deck chairs and sunbed
Grill and ustensils
+ Tablecloths, napkins, tea towels and various kitchen utensils are also available.
Outdoor
Terrace area and greenery, with :
Table & Chairs
Large sunshade
Deckchairs and sunbeds
Plancha and its utensils
Swimming Pool
L – shape swimming pool
Eight- meter long and one-point-five meter deep swimming corridor
Thirty-centimeter deep area to have a drink or to play with the children.
Large sitting corner with two sofas, two armchairs and storage.
towels and slippers available
independent lavatories
changing room / utility room with a shower, sink, washing-machine, dryer as well as drying rail, iron.
fully secured swimming-pool with a rolling shutter.
Please note the owners might also use the swimming-pool
January-February-March-April-September
October-November-December
and outside school holidays
May-June and
school holidays
These prices do not include water, electricity and gas (between 30 and 130 euros depending on the season)
(a meter reading will be taken on arrival and departure), and tourist tax.
Ecomusee de la bresse bourguignonne
Created in 1981, the museum federates a network of five thematic branches, three municipal museums and a circuit of site visits. Its headquarters are located in the departmental castle of Pierre-en-Bresse, originally a fortified house built in the 12th century.
City : Pierre de bresse
Acrogivry
Enter one of the largest adventure parks in France.
300 aerial games, more than 30 tyroliennes, more than 5 km of trails, 26 courses adapted to everyone's desires.
City : Givry
Beaune, Capitale des Vins de Bourgogne.
A city with a rich cultural, artistic and gastronomic heritage
City : Beaune
Grottes de Blanot
The caves of Blanot are located in the Mangette gorge on the western flank of Mont St Romain, the highest point of the Clunisois region. Of very old formation (end of tertiary), the cave develops in the limestones of bajociens (jurassic)…
City : Blanot
Musee du vigneron
You will discover the history of the vineyards of the Côte Chalonnaise. Thanks to numerous donations: bottles, tools, documents… You will learn all about the journey of a winegrower and the work of the vineyard during a year.
City : Buxy
Cathedrale Saint-Vincent
The façade was rebuilt in 1827, the first in France to adopt the neo-classical style.
It replaces the one which was unfortunately destroyed and which had a Romanesque bell tower.
City : Chalon sur saône
Abbaye de Cluny
Independent and powerful. William the Pious founded the abbey in 910, directly under the protection of Rome. Its abbot is a mediator between the political powers and the pope. Cluny is the mother house of 1,400 dependencies.
City : Cluny
Golf & Parc de loisirs Saint-Nicolas
The Saint-Nicolas leisure park is a vast park of a hundred hectares whose outline is drawn by the curves of the great loop of the Saône, five minutes from the centre of Chalon.
City : Chatenoy en Bresse
Chateau de Cormatin
Between Tournus and Cluny, in the heart of southern Burgundy, the Château de Cormatin awaits you in the middle of its gardens and water features. The Marquis d'Huxelles had it built at the beginning of the 17th century to show their power and prestige.
City : Cormatin
Les arcades de Louhans
Unique in France, the 157 arcades and facades of the 15th century houses line the 400 metre long main street. Every Monday, the street comes alive with the non-food market which is set against this very picturesque architectural backdrop.
City : Louhans
Village du livre
17 book professionals who have come to live in the old shops of the village of Cuisery, in Burgundy, welcome you to their shop or workshop all year round: booksellers, second-hand booksellers, record dealers, antique dealers, book craftsmen and artists.
City : Cuisery
Maison du sabotier
Noble house known as the "sabotier" dating from the 15th century, classified as a historic monument. Bresse farmhouse with a gallery on the first floor housing the town hall secretariat and the council room.
Town : Flacey-en-Bresse
Abbaye de la Ferté
Private historic monument from the 18th century. The first foundation of Saint Bernard (1113), La Ferté was one of the most important Cistercian abbeys. The church has disappeared but the magnificent abbey palace remains intact.
City : La Ferté sur Grosne
Abbaye Saint Philibert
One of the most important monastic cities in france stands between the Bresse plain and the Mâcon hills. Built at the turn of the year 1000, the abbey of Saint Philibert has survived the iron centuries of feudalism and the wars of religion.
City : Tournus
Hotel dieu musee Greuze
In the south of burgundy, a few steps away from one of the most famous romanesque abbeys in france, the greuze hotel-god museum of tournus is an exceptional heritage complex, which today brings together a hospital museum and a museum of fine arts and archaeology.
City : Tournus
Musee du velo - Michel Grezaud
Discover the history of the bicycle through the collection gathered by Michel Grezaud, founder of this museum. After the visit, unusual bicycles can be made available for you to try out in the museum courtyard, children love them… Adults too!
City : La Ferté sur Grosne
Bookings
Weekly booking only (7 nights) from Saturday to Saturday during mid season ang high season and two-day bookings available during low season.
For any specific requirement, please contact us directly via mail: reservations@lesvagastines.fr or telephone: +33 9 54 64 44 95.
[booking type=1 form_type='custom' nummonths=2]