Location de gîte Bresse Bourguignonne
The cottage
At the very heart of Burgundy, Saint Germain du Plain is a small village in Saône-et-Loire, located at the crossroad between Tournus (18km), Chalon sur Saône (17km) and Louhans (21km).
Its proximity with the wine route offers the opportunity to visit many vineyards from South Burgundy (Côte de Nuits, Nuits Saint Georges, Côte de Beaune, Côte Chalonnaise, Maconnais...)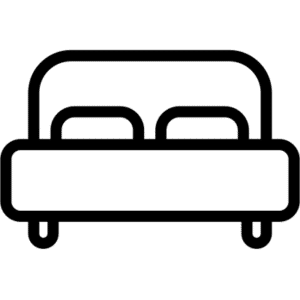 3 Chambres
6 Personnes
Piscine intérieure
2 salles de bains
Included : wifi – tv – private parking spaces - 2 two parking spaces in a garage and in a closed yard
Important : the cottage is non-smoking in indoor areas
Bedrooms
Blue bedroom: double bed (160 cm) with en suite bathroom, sink + shower
Yellow bedroom: double bed (160 cm)
Pink bedroom: twin beds (90 cm)
Bathrooms
2 Bathrooms, shower place and double sink
independent lavatories
Added services :
Bed linen and towels included
Hair dryer available
Wardrobe included in each bedroom
Baby equipment on demand (changing table, high chair, baby chair, potty, cot)
Living-Room & Kitchen
The cottage offers a small and cosy living-room area with a large sofa, armchair, side board and TV.
The kitchen area is fully equipped with a long table and two extensions allowing between six and ten people to sit and enjoy a meal!
Kitchen equipment :
Oven, Microwave & Gas hob,
Extractor
Fridge / freezer
Boiler
Toaster
Nespresso coffee machine (coffee portions not included)
+ Tablecloth, napkins, tea towels, kitchen ustensils are available as well.
Outdoor area
a small and green terrasse which includes:
Table & chairs
Parasol
Deck chairs and sunbed
Grill and ustensils
Swimming Pool
L - shape swimming pool
Eight- meter long and one-point-five meter deep swimming corridor
Thirty-centimeter deep area to have a drink or to play with the children.
Large sitting corner with two sofas, two armchairs and storage.
towels and slippers available
independent lavatories
changing room / utility room with a shower, sink, washing-machine, dryer as well as drying rail, iron.
fully secured swimming-pool with a rolling shutter.
Please note the owners might also use the swimming-pool
January-February-March-April
October-November-December
and excluding school holidays
May-June et September
+ school holidays
Those prices don't include water, reading electricity and gas
(a gas meter will be reviewed upon arrival and departure) but cleaning fees are included!
Ecomusee de la bresse bourguignonne
Créé en 1981, le musée fédère un réseau de cinq antennes thématiques, trois musées municipaux et un circuit de visites de sites. Son siège se situe au Château départemental de Pierre-en-Bresse, à l'origine maison forte érigée au XIIe siècle.
Ville : Pierre de bresse
Acrogivry
Entrez dans l'un des plus grands parcs aventure de france.
300 jeux aériens, plus de 30 tyrolienns, plus de 5 km de pistes, 26 parcours adaptés aux envies de chacuns.
Ville : Givry
Beaune, Capitale des Vins de Bourgogne.
Ville d'une richesse culturelle, artistique et gastronomique hors paire
Ville : Beaune
Grottes de Blanot
Les grottes de blanot s'ouvrent dans la gorge de la mangette sur le flanc ouest du mont st romain, point culminant du clunisois. De formation très ancienne (fin tertiaire), la grotte se développe dans les calcaires du bajociens (jurassique)...
Ville : Blanot
Musee du vigneron
Vous découvrirez l'histoire du vignoble de la côte chalonnaise. Grâce à de nombreux dons : bouteilles, outils, documents... Vous saurez tout sur le parcours d'un vigneron et le travail de la vigne pendant une année.
Ville : Buxy
Cathedrale Saint-Vincent
La façade fut refaite en 1827, première en france à adopter le style néo-classique.
Elle remplace celle qui fut malheureusement détruite et qui comportait un clocher roman.
Ville : Chalon sur saône
Abbaye de Cluny
Indépendante et puissante. Guillaume le pieux fonde l'abbaye en 910, directement placée sous la protection de rome. Son abbé jouit d'un rôle de médiateur entre les pouvoirs politiques et le pape. Cluny est la maison mère de 1 400 dépendances.
Ville : Cluny
Golf & Parc de loisirs Saint-Nicolas
Le parc de loisirs Saint-Nicolas est un vaste parc d'une centaine d'hectares dont le contour est dessiné par les courbes de la grande boucle de la Saône, à cinq minutes du centre de chalon.
Ville : Chatenoy en Bresse
Chateau de Cormatin
Entre Tournus et Cluny, au cœur de la bourgogne du sud, le château de cormatin vous attend au milieu de ses jardins et de ses pièces d'eau. Les marquis d'Huxelles l'ont fait construire au début du xviie siècle pour témoigner de leur puissance et de leur prestige.
Ville : Cormatin
Les arcades de Louhans
Unique en france, les 157 arcades et façades des maisons du xvème siècle bordent la grande rue longue de 400 mètres. Chaque lundi, la rue s'anime avec le marché non alimentaire qui a pour décor cet ensemble architectural très pittoresque.
Ville : Louhans
Village du livre
17 professionnels du livre venus s'installer dans les anciens commerces du village de cuisery, en bourgogne, vous accueillent dans leur boutique ou atelier toute l'année : libraires, bouquinistes, disquaires, antiquaires, artisans du livre et artistes.
Ville : Cuisery
Maison du sabotier
Maison noble dite du sabotier datant du xvème siècle, classée monument historique. Ferme bressane avec galerie à l'étage abritant le secrétariat de la mairie et la salle du conseil.
Ville : Flacey-en-Bresse
Abbaye de la Ferté
Monument historique privé du xviiie siècle. Première fondation de saint bernard (1113), la ferté fut une des plus importantes abbayes cisterciennes. L'église a disparue mais le magnifique palais abbatial subsiste intact.
Ville : La Ferté sur Grosne
Abbaye Saint Philibert
L'une des plus importantes cités monastiques de france dresse ses murs entre la plaine de bresse et les collines du mâconnais. Edifiée au tournant de l'an mil, l'abbaye saint philibert a traversé les siècles de fer de la féodalité et des guerre de religion.
Ville : Tournus
Hotel dieu musee Greuze
Au sud de la bourgogne, à quelques pas d'une des abbayes romanes les plus célèbres de france, l'hôtel-dieu-musée greuze de tournus est un ensemble patrimonial exceptionnel, qui rassemble aujourd'hui un musée hospitalier et un musée de beaux-arts et d'archéologie.
Ville : Tournus
Musee du velo - Michel Grezaud
Découvrez l'histoire du vélo travers la collection réunie par michel grezaud, fondateur de ce musée. Après la visite, des vélos insolites pourront être mis à votre disposition pour les essayer dans la cour du musée, les enfants en raffolent... Les adultes aussi !
Ville : La Ferté sur Grosne
Bookings
Weekly booking only (7 nights) from Saturday to Saturday during mid season ang high season and two-day bookings available during low season.
For any specific requirement, please contact us directly via mail: reservations@lesvagastines.fr or telephone: +33 9 54 64 44 95.